Dave Thomas
American Karate System
Chief Instructor American Karate Club
8th Degree Black Belt
Awards:
2017

- Ernest H. Lieb Award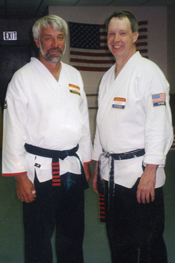 In 1968 Dave's best friend, Steve Thurkettle, gave him his karate uniform. Steve had enlisted in the Navy and was about to depart for basic. Steve told Dave to, "put this to good use." Dave did just that. He started his training with Mr. Lieb in September of that same year. Though he was only able to attend the classes for three months, he was hooked. The experiences and knowledge he gained in those three months made an impression that has lasted to this day. In April of 1971 Dave saw Mr. Lieb at a boat show. Mr. Lieb told him he was starting a new class at Muskegon Community College. The next month Dave began karate classes anew.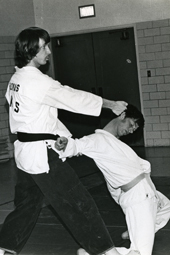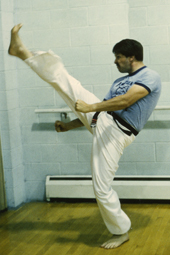 Dave earned his 1st degree black belt in August 1974. This was a big accomplishment for him at that point in his life. It gave him the confidence to return to college where he completed his associate's degree. He became a project engineer and has succeeded in areas where others had failed. Over the years he's started and managed several prosperous manufacturing companies. With all Dave's successes, he still considers earning his 1st Dan as his biggest accomplishment. This is because he thought he would never be able to accomplish it.
Dave has been an instructor since 1984. He strives to share with his students the benefits and personal growth he experienced as a result of his training. He has trained and promoted more than thirty black belts, and was responsible for the only martial arts series to air on local television. Over the years, Mr. Thomas has been voted AKS Instructor of the Year, and AKS Black Belt of the Year three times. He is the only recipient of the Herbert Klien Sportsman's Award, named for Mr. Lieb's brother.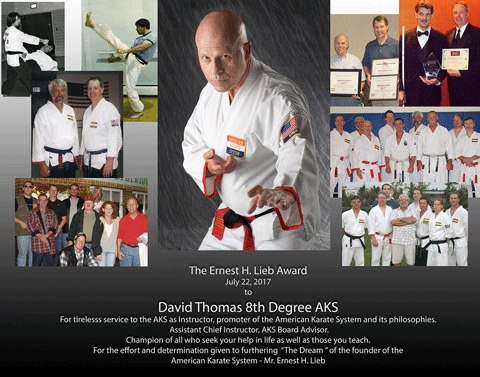 In 2017, Dave was presented the Ernest H. Lieb award upon semi-retiring from advisory duties within the AKS. He continues as Chief Instructor of American Karate Clubs at Ross Park in Muskegon, MI, the Tri-Cities Family YMCA AKS Karate Club in Grand Haven, MI, and the Oklahoma Karate Club in Mustang, Oklahoma. Dave will also be in charge of financial matters within the AKS organization.
Sensei Thomas' personal and professional commitment today is to the AKS and his students. In the years before Mr. Lieb's untimely death, Dave was a regular visitor and confidant of our founder. He has been, and continues to be, a strong supporter of the Chief Instructor, along with his counterparts, in maintaining the integrity and growth of the AKS through his instructional endeavors and his leadership to the organization. Dave feels it is imperative not only his students, but also all who become students and members of the AKS have the same opportunities to grow and learn he has had. He knows their lives will be forever changed as his was.
Martial Arts Historical Profile
1st Dan American Karate System, August 16, 1974

2nd Dan American Karate System, March 20, 1976

3rd Dan American Karate System, January 3, 1987

4th Dan American Karate System, May 18, 1991

5th Dan American Karate System, June 26, 1999

6th Dan American Karate System, Master Level, June 22, 2002

7th Dan American Karate System, Assistant Chief Instructor, June 11, 2005

8th Dan American Karate System, Assistant Chief Instructor, July 20, 2007

8th Dan American Karate System, Chief Instructor American Karate Club, 2017