The pictures that follow are some that help us trace our history and heritage. As more become available, they will be added. Thanks for taking the time to visit us. Michael A. Sullenger, 8th Dan


|
In the picture (above-left), Mr. Lieb is being presented with his new Black and Red embroidered belt in recognition of his promotion to 9th Dan. In the A.K.S., Mr. Lieb is the only one authorized to wear this color combination of belt.

The picture (above-right) shows Mr. Lieb (left) wearing his new belt, and is being congratulated by Mr. Reinecke, 7th Dan.


Individuals in the above picture from left to right (standing) are Guessler Normand, Ph.D. 6th Dan AKS (Ohio), Carl Stolberg, 9th Dan TKD (Michigan), Ernest H. Lieb 9th Dan AKS (Michigan), Monte beghtol 9th TKD (Michigan), Dave Thomas 6th Dan AKS (Michigan) and Mike Sullenger 7th Dan AKS (Texas).

Kneeling are Fred Reinecke 7th Dan AKS (Michigan), Larry Malo 6th Dan AKS (Michigan) and Andreas Modl 6th Dan AKS (Germany).



Pictured above Ernie Lieb (left) and Monte Beghtol (right) at one of Mr. Lieb's early black belt promotions during the middle 1960's. Mr. Beghtol was one of Mr. Lieb's first black belts. Carl Stolberg is pictured center.

The 2000 A.K.S. summer camp where the group picture was taken was extremely successful for two reasons. First, the representatives from the European branch of the A.K.S. were in the United States for the first time. Secondly, Mr. Lieb had not seen some of his oldest students for more than three decades. The summer camp was a reunion that brought together old and new friends from all over the US and Europe. Ernie Lieb could not have been more proud or happy with the turn out.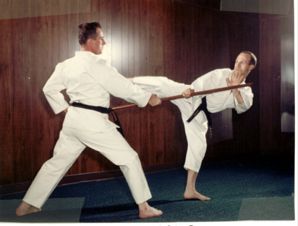 The above picture shows Mr. Lieb conducting a Bo demonstration with Mr. Beghtol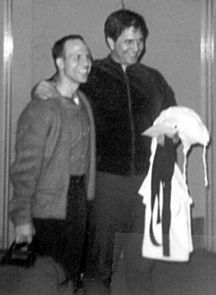 |
The picture above - left, was taken at Jhoon Rhee's Washington DC tournament in 1967, and shows Ernie Lieb and Ed Parker. The late Mr. Parker was also one of the key founding fathers of martial arts in the United States. Mr. Parker was a proponent of Kempo Karate. On the right are Ernest Lieb, Jhoon Rhee, Ed Parker, and Bruce Lee.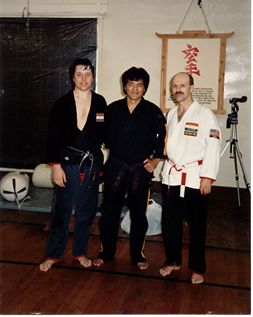 In the picture on the left, are Fred Reinecke, Tadashi Yamashita and Ernie Lieb at Mr. Yamashita's martial arts clinic in Grand Rapids, Michigan in 1989. Mr. Lieb and Mr. Yamashita have known each other since 1965. Mr. Yamashita is a renowned Okinawan Shorin-Ryu stylist and weapons expert. He has performed in many Hollywood movies, most notably in the Octagon with Chuck Norris, who is another of Mr. Lieb's personal friends. Mr. Yamashita served as the weapons master for the AKS for many years.



In the picture above, you see Mr. Lieb kicking a cigarette from the mouth of his trusting 6 feet 6 inch assistant at a tournament in Grand Rapids Michigan in 1969.



This is an early picture of Mr. Lieb during competition at an Ed Sell tournament in Detroit Michigan in 1967. Mr. Lieb (on the right) was fighting a tough midwest opponent named Robert Moore. The referee on the left was Jim McClain. The center referee (wearing gray) was Mr. Kennedy. Both were black belts in the United States Karate Association (USKA).

At this tournament, Mr. Lieb defeated Wally Slocki and Ted Martin from Canada, and Bill Wallace for the Grand Championship. This is just one of the many tournaments Mr. Lieb fought in, and won, against many top ranked black belt competitors of the day.



Pictured above, Mr. Lieb was one of more than 300 black belt competitors in Namwon South Korea. Mr. Lieb survived the three day event winning the Light Weight Division. He was the first American to win in competition in Korea.


Mr. Lieb breaking boards held by a student and Mr. Driver (right) using a jump front snap kick in 1967.



Mr. Lieb is the guest of honor and tournament director at a competition held at Lindsey Air Station in Wiesbaden Germany. This was one of three tournaments planned and run by Mike Sullenger and Rob Debelak. The money from these competitions was used to bring Mr. Lieb and his Wife Marlene over for a three week visit, that also included Athens, Greece.



The above picture shows Mr. Lieb competing in a tournament in Washington DC in 1967. Mr. Lieb ripped his opponents gi (uniform) twice as his challenger kept trying to run out of the ring. Mr. Lieb was later disqualified for excessive contact.



Return to Top